Milford Flats South
Maps
Utah Variance Areas
Milford Flats South SEZ

Letter

(3.20 MB)

Poster

(7.07 MB)

Letter

(918 KB)
SEZ Analysis
The Milford Flats South solar energy zone (SEZ) is located in Utah in the Escalante Desert. The SEZ is located on BLM-administered land within the Cedar City Field Office.
Size and Location
The Milford Flats South solar energy zone (SEZ) has a total area of 6,480 acres (26 km2). In the Supplement to the Draft Solar PEIS, 228 acres (0.9 km2) composing the Minersville Canal were identified as a non-development area, leaving the SEZ with a potentially developable area of 6,252 acres (25.3 km2). No additional changes to the SEZ developable area were made in the Final Solar PEIS.
The Milford Flats South SEZ is located in Beaver County in rural southwestern Utah. The SEZ is located in the northeastern section of the Escalante Desert, bounded by Mineral Mountains to the northeast, Black Mountains to the south and southeast, Shauntie Hills to the northwest, and Wah Wah Mountains to the west. In 2008, the county population was 7,265, while adjacent Iron County to the south had a population of 45,833. The largest nearby town is Cedar City about 30 mi (48 km) south-southeast. Several small towns are located closer to the SEZ.
Milford Flats South SEZ
(does not show non-development areas)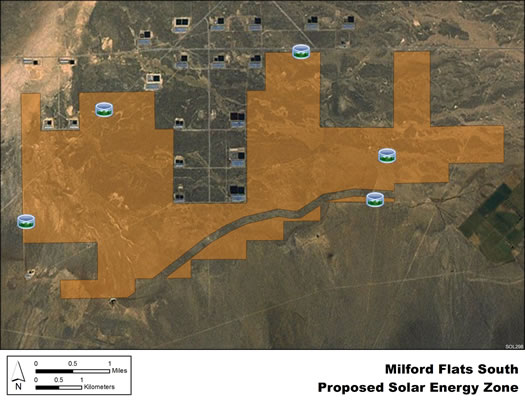 Physical Characteristics
Land within the Milford Flats South SEZ is undeveloped scrubland characteristic of a high-elevation, semiarid basin. Vegetation consists primarily of low shrubs with areas of bare soil and gravel.
A number of unpaved roads cross the SEZ. The land within the SEZ contains livestock ponds (typically dry), cattle trails, and wire fences. No electric transmission lines are located within the SEZ. Part of the SEZ is authorized by the BLM for grazing. The SEZ may be used by local residents for general outdoor recreation, including backcountry driving and off-highway vehicle use, recreational shooting, and small and big game hunting.
Numerous large buildings that are part of a commercial confined hog-rearing operation are located on private land adjacent to the northern border of the SEZ. There are irrigated farms to the east of the area.

Technical Suitability
The nearest major road to the Milford Flats South SEZ is State Route 21/130, about 5 mi (8 km) east in Minersville. A smaller spur of State Route 129 is about 3 mi (5 km) northwest of the SEZ. Access to the Milford Flats South SEZ is by county and local roads. The nearest alternating current transmission line is a 345-kV line that runs north to south about 19 mi (31 km) southeast of the eastern boundary of the SEZ. As of May 2012, there were no pending solar applications within the SEZ.