Antonito Southeast
Maps
Colorado Variance Areas
Antonito Southeast SEZ

Letter

(1.84 MB)

Poster

(4.57 MB)

Letter

(1.7 MB)
SEZ Analysis
The Antonito Southeast solar energy zone (SEZ) is located in Colorado in a semiarid basin with undeveloped scrubland currently used for BLM-authorized grazing. The SEZ is located on BLM-administered land within the La Jara Field Office.
Size and Location
The Antonito Southeast SEZ has a total area of 9,729 acres (39.4 km2). In the Supplement to the Draft Solar PEIS, 17 acres (0.07 km2) of wetland and lake areas were identified as non-development areas, leaving the SEZ with a potentially developable area of 9,712 acres (39.3 km2). No additional changes to the SEZ developable area were made in the Final Solar PEIS.
The Antonito Southeast SEZ is located in southeastern Conejos County on the New Mexico border in the south-central part of the San Luis Valley. The San Luis Valley is bounded by the San Juan Mountains to the west and the Sangre de Cristo Range to the east. The largest nearby town of Alamosa is located about 34 mi (55 km) to the north. In 2008, the county population was 8,232, while the surrounding six-county region in Colorado and New Mexico had a population of 116,511.
Antonito Southeast SEZ
(does not show non-development areas)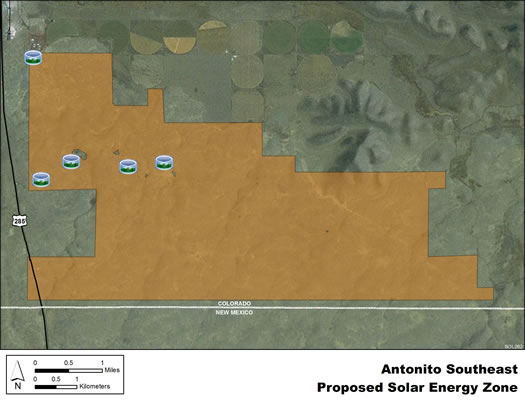 Physical Characteristics
The Antonito Southeast SEZ is located in a flat to gently rolling, largely treeless plain. Land within the SEZ is undeveloped scrubland characteristic of a high-elevation, semiarid basin. Vegetation is primarily low shrubs such as rabbitbrush and grasses. The SEZ is dissected by dry washes. Alta Lake is an ephemeral water body located in the north-central portion of the SEZ that was identified as a non-development area in the Supplement to the Draft Solar PEIS.
Several unpaved roads cross the SEZ, and there are remnants of a historic railroad and an irrigation reservoir and canal system. Part of the SEZ is authorized by the BLM for grazing.
There is little industrial development in the vicinity of the SEZ, other than a perlite processing plant approximately 0.75 mi (1.2 km) north-northwest of its northwest corner. The land areas to the west, north and east of the SEZ are comprised of a mix of BLM-administered and private lands; the area immediately to the north is private land used for agriculture, with irrigation water supplied mainly from surface water sources. The area to the south of the SEZ is BLM-administered land in New Mexico.

Technical Suitability
The SEZ is adjacent to U.S. 285, and the nearest existing transmission line is a 69-kV line that is located about 3 mi (5 km) north of the SEZ. As of May 2012, there were no pending solar project applications within the SEZ.