Imperial East
Maps
California Variance Areas
Imperial East SEZ

Letter

(2.58 MB)

Poster

(5.67 MB)

Letter

(653 KB)
SEZ Analysis
The Imperial East solar energy zone (SEZ) is located in California in gravel flats within the Sonoran Desert. The SEZ is located on BLM-administered land within the El Centro Field Office.
Pending Applications
There is one pending solar application within the Imperial East SEZ (Application 49884, for a 4,000 acre power tower facility).
Size and Location
The Imperial East SEZ as proposed in the Draft Solar PEIS had a total area of 5,722 acres (23 km2). In the Supplement to the Draft Solar PEIS, 5 acres (0.02 km2) of wetlands along the southern border of the SEZ were identified as non-development areas, leaving the SEZ with a potentially developable area of 5,717 acres (23.1 km2). No additional changes were made to the SEZ developable area in the Final Solar PEIS.
The Imperial East SEZ is located in Imperial County in southeastern California, near the United States–Mexico border. The SEZ lies in East Mesa, within the California Desert Conservation Area (CDCA) and the Sonoran Desert. In 2008, the county population was 180,493, while the surrounding two-county region in Imperial County and Yuma County, Arizona had a total population of 387,798.
Imperial East SEZ
(Does not show non-development areas)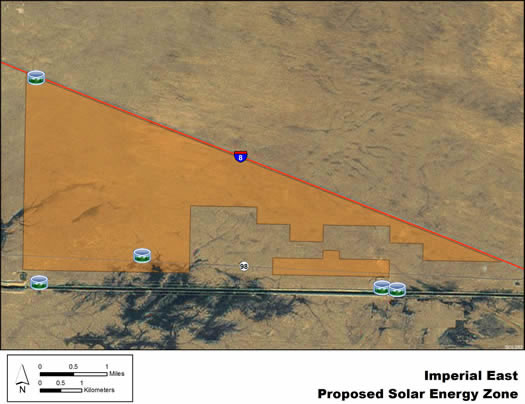 Physical Characteristics
Scrubland vegetation reflects the arid climate. Much of the SEZ is covered with creosote flats consisting of generally tall, widely spaced creosotebushes on gravel. The south-central portion contains a more dense and diverse set of shrubs, with some small trees and a few palm trees. The Imperial Valley groundwater basin underlies the area. Annual rainfall averages about 3 to 4 in. (8 to 10 cm).
In addition to State Route 98, several gravel and dirt roads cross the SEZ, as well as several transmission lines. Communication and camera towers are also visible from much of the SEZ.
There is an operating geothermal plant about 3 mi (4.8 km) northwest of the SEZ. Little other commercial or industrial activity exists in the surrounding area, while agricultural areas lie about 3 mi (5 km) to the west, across the border in Mexico.
Technical Suitability
I-8 runs east–west along the northeast edge of the SEZ, while State Route 98, a two-lane highway, passes through the southern edge. The All-American Canal runs parallel to the southern boundary of the SEZ, about 0.3 mi (0.5 km) from the boundary. Two hydropower facilities exist along the canal, along with associated dams and substations.
A 115-kV transmission line intersects the southwest corner of the SEZ, and a 500‑kV line is located about 0.4 mi (0.6 km) to the south, running east-west. As of May 2012, one solar project application was pending in the SEZ.