Afton
Maps
New Mexico Variance Areas
Afton SEZ

Letter

(3.05 MB)

Poster

(6.45 MB)

Letter

(2.1 MB)
SEZ Analysis

Afton SEZ Analysis: Draft PEIS
(4.8 MB)
The Afton solar energy zone (SEZ) is located in New Mexico in a semiarid basin with undeveloped scrubland. The SEZ is located on BLM-administered land within the Las Cruces District.
Pending Applications
There is one pending solar application within the Afton SEZ (Application 119969, for a 3,000 acre parabolic trough facility).
Size and Location
In the Draft Solar PEIS the proposed Afton SEZ had a total area of 77,623 acres (314 km2). In the Supplement to the Draft, the SEZ was significantly reconfigured to eliminate 46,917 acres (190 km2) of land. Lands were eliminated at the north, northeast, southeast, and southwest boundaries, in order to focus potential solar development in the area along the existing Section 368 corridor, where development already exists. In addition, 742 acres (3 km2) of floodplain and intermittent and dry lake non-development areas within the remaining SEZ boundaries were identified. The remaining developable area within the SEZ is 29,964 acres (121.2 km2). No additional changes to the SEZ developable area were made in the Final Solar PEIS.
The Afton SEZ is located in Dona Ana County in southern New Mexico, 21 mi (34 km) north of the border with Mexico. The SEZ is located in the West Mesa of Mesilla Basin bordered on the north by Rough and Ready Hills and Robledo Mountain; on the west by Sleeping Lady Hills, Aden Hills, and West Potrillo Mountains; and on the east by Mesilla Valley. In 2008, the county population was 206,486. Las Cruces is the largest town within a 5-mi (8-km) radius of the SEZ.
Afton SEZ
(does not show non-development areas)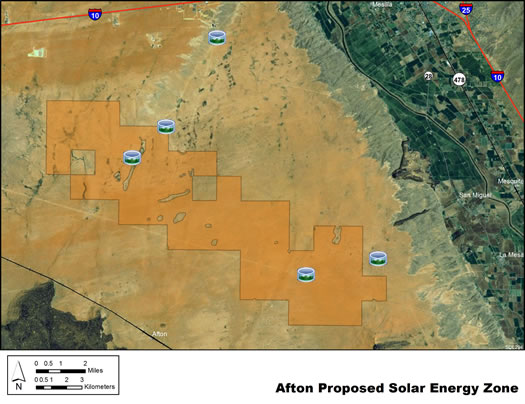 Physical Characteristics
The land within the SEZ is undeveloped scrubland characteristic of a semiarid basin. Vegetation within the SEZ is predominantly creosotebush, mesquite, and other low shrubs.
Dirt and gravel roads, existing transmission towers, pipeline, and cleared rights-of-way (ROWs) are located within the SEZ. A cheese factory, electric power plant, natural gas peaker plant, mining activity at Little Black Mountain, and other developments are visible at the SEZ boundaries. Part of the SEZ is authorized by the BLM for grazing.

Technical Suitability
The nearest major road access is via Interstate-10 (I-10), which runs east to west about 3 mi (5 km) to the north of the revised border of the Afton SEZ. A 345-kV transmission line passes through the SEZ. As of May 2012, there was one pending ROW application for a solar project within the SEZ.