Fourmile East
Maps
Colorado Variance Areas
Fourmile East SEZ

Letter

(1.84 MB)

Poster

(4.57 MB)

Letter

(534 KB)
SEZ Analysis
The Fourmile East solar energy zone (SEZ) is located in Colorado in a high-elevation basin. The SEZ is located on BLM-administered land within the La Jara Field Office.
Size and Location
In the Draft Solar PEIS the proposed Fourmile East SEZ had a total area of 3,882 acres (16 km2). In the Supplement to the Draft, 999 acres (4 km2) were eliminated, mainly along the eastern boundary of the SEZ, and also a small area on the west side of the proposed SEZ. These areas were eliminated to avoid impacts on various resources, including cultural resources and the Caminos Antiguos Scenic Byway. Small additional wetland areas with a total area of about 1 acre (0.004 km2) have been identified as non-development areas within the SEZ. The remaining developable area within the SEZ is 2,882 acres (11.7 km2). No additional changes to the SEZ developable areas were made in the Final Solar PEIS.
The Fourmile East SEZ is located in Alamosa County in south-central Colorado, in the eastern San Luis Valley, part of the San Luis Basin, a high-elevation basin between the San Juan Mountains to the west and the Sangre de Cristo Range to the east. In 2008, the county population was 15,783, while the surrounding four-county region had a total population of 39,759. The largest nearby town of Alamosa is located about 13 mi (21 km) to the west.
Fourmile East SEZ
(does not show non-development areas)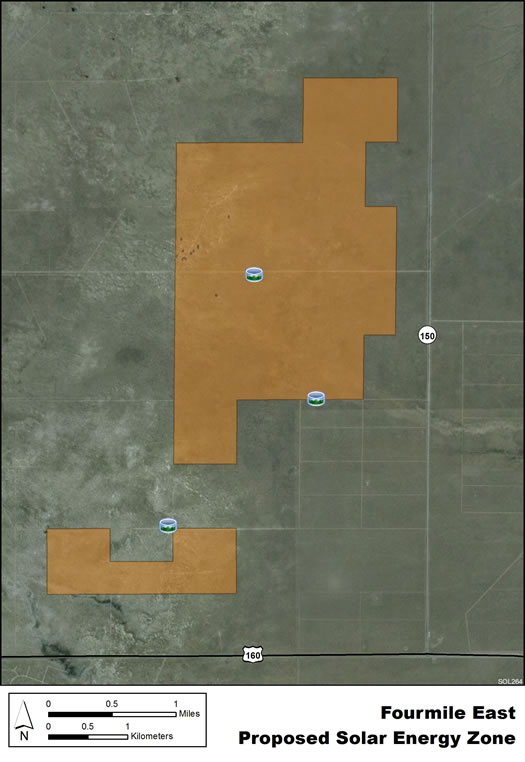 Physical Characteristics
The Fourmile East SEZ lies on a flat alluvial fan formed in the basin. Scrubland vegetation reflects the arid climate. Vegetation varies somewhat in different parts of the SEZ. Some areas contain primarily low shrubs mixed with prickly pear cacti, and many large areas of bare soil. In other areas, grasses predominate. Large groundwater reserves underlie the area in several aquifers. Annual rainfall averages about 8 in. (20 cm).
No developments exist on the land, but several unpaved roads pass through the SEZ. Part of the SEZ is authorized by the BLM for grazing.
Little commercial or industrial activity exists in the surrounding area. Some agricultural areas lie to the southeast. Ranches and homes are located primarily west of the SEZ.

Technical Suitability
U.S. 160 parallels the far southern boundary of the SEZ. An existing 69‑kV transmission line lies about 2 mi (3 km) to the south, and a 230‑kV line lies about 8 mi (13 km) to the north of the SEZ. As of May 2012, there were no pending solar project applications within the SEZ.